Italian e-commerce site La DoubleJ made their claim to fame unearthing statement-worthy vintage fashion and jewelry, and soon launched their own line of clothing, La DoubleJ Editions, made from 25 vintage prints hand-picked by Mantero Seta, a 114-year-old silk manufacturer on Lake Como. Their maximal aesthetic brings together an array of mix-and-match prints that lend a bright touch to any ensemble—and now any tabletop.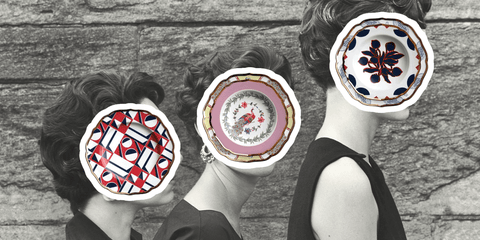 The new collection draws its inspiration from "Milanese Sciura," which the brand defines as the "top-tier Italian haute-couture-hostesses and our own personal spiritual style guides." In other words, think of the ultimate Italian woman who mesmerizes her guests with her effortless production, whether it be through her fashion choices or chic soirées.
And now you can channel the Milanese Sciura, hosting your own fête with an assortment of vivid plates and linens to steal the show and take your tablescape to the sublime.